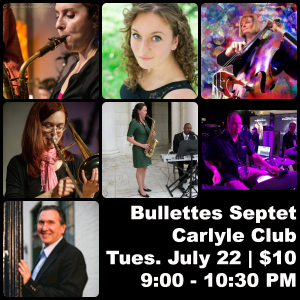 The Bullettes Septet is performing on Tuesday, July 22nd at the Carlyle Club in Alexandria Virginia at 9 pm – 10:30 pm in conjunction with Gotta Swing dance lessons! We hope to see you there! We will be featuring:
Danielle Wertz: Vocals
Leigh Pilzer: Sax
Halley Shoenberg: Sax and Clarinet
Cyndy Elliott: Bass
Shannon Gunn: Trombone
Wade Beach: Piano
John Emrich: Drums
There is a $10 cover charge which helps defray the cost of travel and musicians' reeds, paper, ink, stand fronts, and metro rides. Hope to see you there!