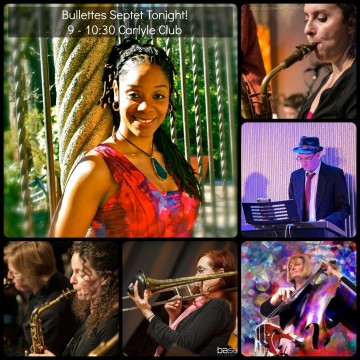 Looking to get away from it all? Come swing your heart out with the Bullettes Septet at the Carlyle Club! We will be there from 9 – 10:30 and it is located at 411 John Carlyle Street. The cover is $10 and it will be fantastic! There will be a swing dance so you can come alone or with a friend – there will be lots of people there! Tonight's featured vocalist is Jessica Boykin-Settles! Our instrumentalists include:
Leigh Pilzer – Tenor
Cyndy Elliott – Bass
Halley Shoenberg – Alto
Oren Levine – Piano
Andrew Guterman – Drums
Shannon Gunn – trombone
As always, our Bullettes Septet is available for swing dances, weddings and corporate functions. We get that big band sound with our own unique twist. Please contact Shannon Gunn at 216.789.5310 if you're interested in hiring us for your next affair. We keep it classy!
Hope to see you out tonight!